VR Bicycle Brings Virtual Cycling to Theme Parks
BY: FG Team
20 October 2017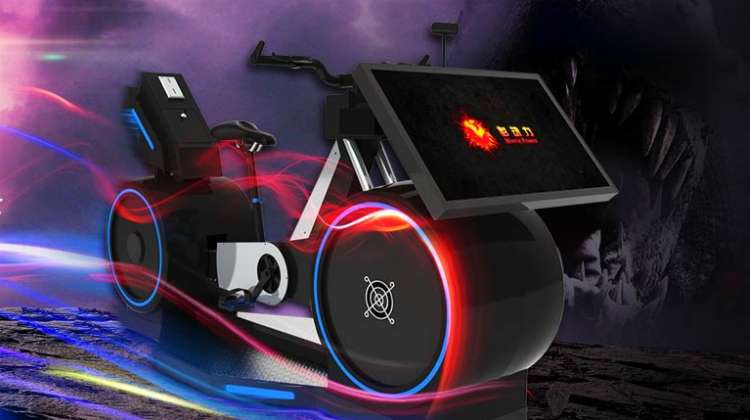 images: GUANGZHOU MOVIE POWER TECHNOLOGY
The VR Bicycle combines exercise, entertainment and interactive multiplayer games to deliver fun and intense indoor workouts with a realistic simulation of road conditions.
The VR Bicycle is an interactive motion platform designed to immerse users in a realistic simulation of an outdoor ride and motivate them to exercise through fun, competitive multiplayer games. The platform transforms cycling workouts into a fun virtual experience, allowing users to ride on a bike and enjoy virtual scenery while torching calories.
The VR Bicycle can simulate different road conditions, including uphill, downhill and bumpy rides, to make the riding experience more interesting and varied. The games challenge users to collect virtual coins to score points, taking their minds off the strenuous workouts and making the ride more exciting.
The technology synchronizes the ride with the virtual environment in real time, matching pedalling speed in the real world with the riding speed in the VR world, and offers a realistic simulation using smart sensors, force feedback, a computer, real-time CG, and a virtual reality headset.
The virtual cycling environment is rendered in real-time through the VR headset and can be modified at any time. The motion sensor detects the speed, intensity and direction while the force feedback device makes it possible for the system to simulate the virtual environment and control the cycling intensity. The three-degree-of-freedom platform can also be used to experience the downhill, bending and deceleration of a real ride.
The VR Bicycle was recently exhibited at the Euro Attractions Show, held in Berlin from September 26 to 28, where it captured visitors' attention with its unique look and the thrilling experience it delivered. The bike has a unique design and makes an eye-catching addition to any theme park or amusement centre, where it can help draw new customers and offer some variety to existing ones.
The VR Bicycle was developed by Guangzhou Movie Power Technology, a Chinese company specializing in developing dynamic cinema equipment and VR simulation technology for use in a wide range of sectors, including gyms, game halls, theme parks, hotels, real estate sales, business clubs and exhibitions.
Founded in 2008, the company has created a number of industry-leading products that have been sold all over the world. These include the Running Racing Car, developed specifically for kids, the VR Racing Simulator, which allows users to experience the dynamic, speed and passion of car racing, and the VR Skiing Simulator, which immerses users in the vivid world of ski slopes.