LedFLEX Interactive Floor Transforms Functional Training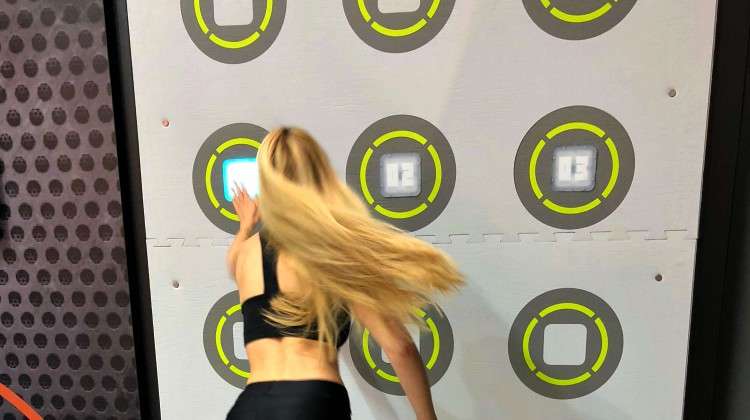 images: PAVIFLEX
The LedFLEX interactive fitness floor uses LED lights and sensors to offer a range of options for functional training in gyms and fitness centres.
LedFLEX Portable, an interactive floor developed by Paviflex, combines LED lights and sensors with a simple software to allow users to create functional training programs and improve a range of skills. The interactive surface consists of multiple tiles with integrated LED lights and sensors which can simply be interlocked and placed on the floor or wall. The system is very easy to set up. There is only one wire that needs to be connected and the interactive floor can be easily managed from a tablet. The lights can be synchronized with music to create a more energizing experience for users. The companion software offers multiple functional training programs and allows users to train specific skills, such as speed and reaction time, and keep track of their progress.
The functional training exercises available with the LedFLEX system include Random Agility, which challenges users to switch off the lights as quickly as possible to get as many hits per minute as they can, and Fast Feet, which allows four people to compete at the same time, switching off as many lights as they can. The Skater training program uses only two lights and challenges the user to touch them performing a skater movement. For each of these programs, the results are displayed on the screen.
LedFLEX can be placed anywhere and customized to meet the client's needs. It makes an excellent solution for personal trainers, who can tailor the interactive training programs and exercises to individual clients. The exercises can be recorded and stored for later use. Trainers can decide which lights the users should touch and select the lights using a tablet.
Paviflex is a leading manufacturer of technical flooring that defines spaces for fitness and sport activities in an original way. Based in Crevillente, Spain, the company creates flooring for specific activities using quality components, resistant and durable materials and a range of colours and different elements that help deliver a unique, motivational experience. With more than 35 years of experience in the field, the company has developed flexible, comfortable floors for aerobics, stretching, Pilates, personal training, yoga, dance and martial arts, among other activities. The company's products are available worldwide.
Watch the video below to see the LedFLEX in action.