Blue Goji Active Games Drive Change in Public Health
BY: FG Team
18 October 2017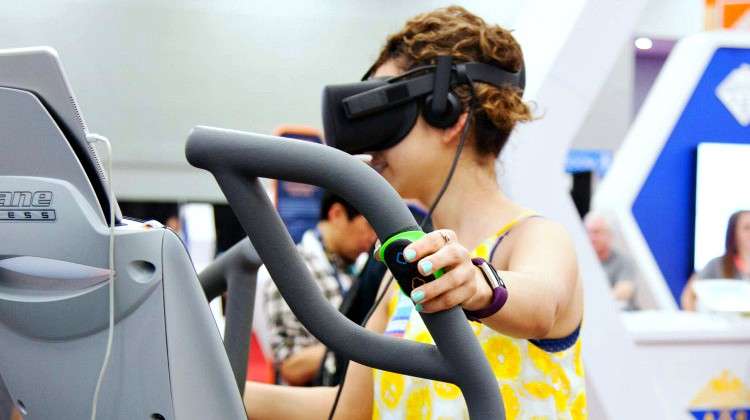 images: BLUE GOJI
Blue Goji has increasingly expanded its focus on health and healthcare in the past year, fostering partnerships that empower specific population groups to live healthier lives.
Blue Goji has significantly expanded its focus on healthcare and public health in the past year, leveraging its technologies to help people adopt healthier lifestyles and manage common conditions through fitness games and active play. The company's soon-to-be-released GojiCare managed service will offer innovative tools to combat leading chronic conditions through fitness gamification. GojiCare will utilize several of the company's technologies, including Goji Play controllers, the GojiGo GPS app, the GojiVerse fitness platform, and the guided meditation app GojiTate, to help people improve and maintain their health.
In broadening the focus on healthcare, the company is targeting three population groups in particular: at-risk kids from underserved communities, older adults, and veterans suffering from substance abuse and other issues. These three target groups face specific challenges and can reap considerable benefits by getting involved in fitness gaming programs. The combination of games and exercise motivates them to stay active and strong, while structured programs can provide them with a network of social support to enhance their emotional and overall well-being in the face of aging, addiction or disability.
Exercise and active aging
Blue Goji Active VR and Goji Play are particularly beneficial to these groups because they offer the combined benefits of video games, which affect brain plasticity, and exercise, which promotes functional capacity and overall health. Exercise is known to improve a range of functional capacity indicators in patients with common chronic diseases, including type 2 diabetes, coronary artery disease, Alzheimer's disease and heart failure. For this reason, it can play a key role in active aging, helping seniors stay healthy and independent well into their advanced years.
Blue Goji has already tested Goji Play in two Erickson Senior Living centers in Virginia. The gaming system was a success among the residents, who enjoyed playing the games and spent more time on cardio machines than expected because they were having fun and the games distracted them from the workouts. Even residents over the age of 90 were able to successfully play many of the games. The event showed the Blue Goji team that seniors were receptive to video games and could learn to use the controls like any younger user.
Fitness and cognitive health
Active games also have a positive effect on cognitive health. Exercise is known to improve cognitive functioning and, paired with video games, it can help repair and enhance the mind-body connection in any age group. Research examining the effects of active games on cognitive functioning has shown that combining the physical challenge of exercise with cognitively demanding tasks found in video games can significantly improve global cognition, both in healthy seniors and in those with neurocognitive impairments. A meta-analysis of 17 such clinical trials led by University of Manchester researchers in collaboration with King's College London, KU Leuven and ETH Zurich, published in Neuroscience and Biobehavioral Reviews, volume 78 (2017), revealed that playing active video games for only 15 to 60 minutes a day, three times a week could prevent cognitive decline and protect against dementia, Alzheimer's disease, Parkinson's disease and other neurological disorders.
The specific cognitive domains that benefit from active games are executive functioning, visuospatial skills and attentional processing. Executive functioning generally declines with age, which can also have a negative effect on social and physical functioning in older adults. This makes active games an effective strategy for maintaining seniors' health as they have the potential to both treat cognitive impairments and reduce the decline associated with aging.
Exercise and mental health
Regular exercise is known to positively affect mental and emotional health, and it can provide at-risk groups with the support they need to stay healthy. It is a particularly useful tool to combat substance abuse because it releases endorphins, helping boost a person's mood and alleviate pain.
Substance abuse wreaks considerable physical and psychological damage and it is important to address both during addiction recovery. Chemical dependency can result in a diminished ability to feel pleasure, which can contribute to relapse. Exercise programs go a long way to alleviate stress, reduce negative emotions and boost self-confidence. They do this by helping recovering addicts refocus their thoughts on their own physical and emotional well-being and allowing them to experience feelings of accomplishment in seeing their goals reached. Physical exercise also provides substance abuse survivors with the much-needed sense of clarity, which in turn makes the recovery process more manageable.
Introduction of GojiCare
In keeping with the new focus on healthcare, Blue Goji has shifted from game expos to more health and healthcare conferences. The company presented the beginnings of GojiCare and its applications in physical therapy at the American Physical Therapy Association Combined Sections Meeting in San Antonio, Texas (February 16-18, 2017), where they revealed the plan to expand their offerings in the field of clinical care.
They introduced the full GojiCare system with all three modalities – standing, elliptical and stationary bike – at the American College of Sports Medicine (ACSM) Annual Meeting in Denver, Colorado (May 29 – June 3, 2017). The elliptical and standing versions of the company's ActiveVR solutions were also showcased at the South by Southwest (SXSW) Conference & Festivals in Austin, Texas (March 10-18, 2017) and at the Partnership for a Healthier America: Building a Healthier Future Summit in Washington, D.C. (May 10 – 12, 2017).
Watch the video below to see some of the options available with the GojiGo app.