PlayBall Interactive Physical Therapy with a Smart Therapy Ball
BY: FG Team
24 February 2022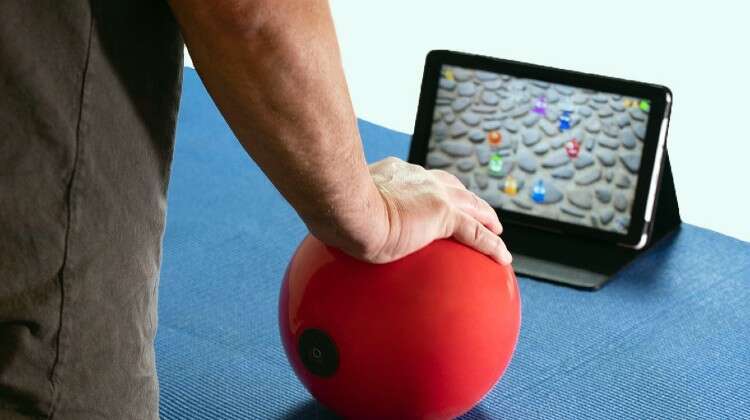 images: PLAYWORK
PlayBall provides physical and cognitive training using gamified rehabilitation methods that are fun and interactive, ensuring patients complete their entire rehabilitation.
One of the most significant challenges physical therapy faces is getting patients to start or continue rehabilitation. It's tedious for most patients, and they're just not interested in sticking to it; they'd rather just work around the issues if they can. PlayBall is a smart therapy ball, using engaging therapy games to get the patients interested in the rehabilitation process. It gives the patient a fun, simple, and interactive way to see immediate results on an included 10.1" touchscreen device and track their long-term progress in recovery. All of the games are fun and have been designed by real therapists to ensure the best results.
The PlayBall functions as both a performance measurement tool and game controller; it can track the motion, how much pressure you're putting on it, and several other factors that it tracks to be reviewed later; no other ball on the market tracks both. During physiotherapy games, you get a dashboard to see your progress and adjust what you're doing based on the feedback. In addition, you'll be given tests to track your overall progress and reset your performance requirements in interactive therapy games.
You can integrate the PlayBall with many PLAYWORK neurological and orthopaedic gamified rehabilitation programs or even create your own. The programs can be used for total-body physical workouts and cognitive therapy, with special programs for your hands, wrists, fingers, forearms, and shoulders.  It's effective in treating many conditions that people face, including arthritis, overall stiffness, back pain, and specific rehabilitation for injuries to ensure your strength, flexibility, range of motion, and overall performance come back and even improve from what it was before the injury. PlayBall also has brain-game exercises specifically designed to improve cognitive performance in children on the Autism spectrum, special-education needs children, and even programs for the elderly to keep both their minds and bodies engaged and active.
The PlayBall can be used anywhere you or your patients are; it's completely portable and self-contained. The PlayBall comes with a touchscreen device and programs installed for you to pick from. Any physical or cognitive therapy setting such as clinics, hospitals, rehabilitation centres, sports medicine facilities can have this setup with limited space required. You can even send patients home with a portable device for long-term care or even travel, so they're not missing out on their rehabilitation journey. The PlayBall is a CE-certified medical device, ensuring that it meets all health and safety standards in the EU, though it can be used in any location with confidence.
All of the founders at PLAYWORK have needed some kind of physical recovery help, so understand the different challenges that people face and incorporate solutions and options into all of their products, including the PlayBall. Click on the video below for a quick overview of the PlayBall and its many benefits.