Social Mobile Gaming with More Abled Player Enhances Physical Therapy
BY: FG Team
1 December 2017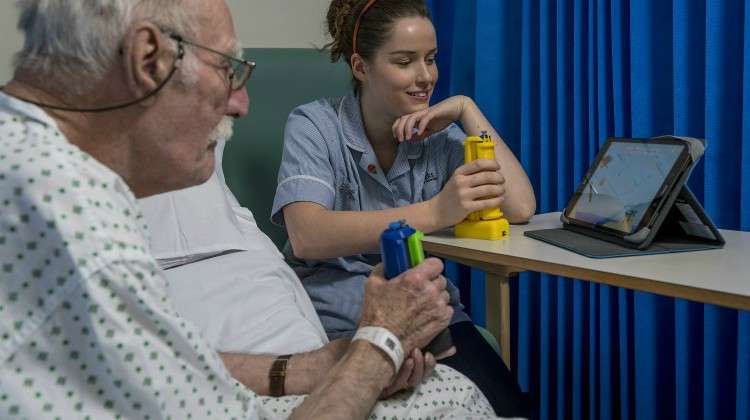 images: GRIPABLE, FERGUS BURNETT, IMPERIAL COLLEGE LONDON
A new multiplayer video game allows stroke patients and other people with upper limb impairment to engage in fun gameplay and reap the benefits of playing with a more abled player.
New research shows that playing an interactive multiplayer game with an abled partner boosts the engagement and performance of patients with arm weakness or disability. Balloon Buddies, a video game designed for training and physical therapy of people with upper limb impairment, is played with GripAble, a wireless handgrip that allows players to control gameplay on any tablet computer. The game allows patients to play and train with therapists, other abled care providers, family members, or even other patients with different abilities, including via the internet. The purpose of the game is to deliver the benefits of human interaction in technology-based therapy effectively and potentially remotely, through telerehabilitation.
Balloon Buddies uses sounds, animations and vibration feedback and challenges players to balance a virtual ball on a beam. The beam is held by balloons at each end and players are required to control the balloons and vary the height of the beam to get the ball to collide with moving targets. At the same time, the players must work together to make sure that the beam stays horizontal and that the ball stays on the platform.
The game was primarily developed for therapy, but variations can also be used for healthy-exercise games as the game delivers the same benefits to able-bodied users playing with partners with different baseline performance levels, such as personal trainers and their clients.
All this was revealed in the new study, conducted by researchers from Imperial College London – Human Robotics Group and published in the Journal of NeuroEngineering and Rehabilitation (JNER), which showed that patients' performance improved when they played the game with another user compared to when they played on their own. The study also showed that the poorer a patient's single-player performance was, the greater the improvement was in the two-player mode.
In conclusion, the researchers suggest that collaborative gaming may lead to greater gains in physical performance because patients are more than likely to put in extra effort into training when they are playing alongside another person.
"Video games are a great way of providing repetitive exercise to help impaired patients recover their movements. However, most games are designed for users to play by themselves, using unfamiliar technology, which can actually discourage and isolate many patients," says Dr. Michael Mace, Research Associate in the Department of Bioengineering at Imperial College London, who led the research.
"We developed the Balloon Buddies game to enable patients to train with their friends, family or caregivers in a collaborative and playful manner. Such partnerships often involve individuals with very different levels of skill. Therefore, a central property of the game is that it implicitly balances the playing field by allowing the better partner to support the less abled player. This makes it more rewarding for the less-abled partner, more challenging for the better partner and overall more fun for both, as they have to continuously work together to score points. We have shown this leads to increased engagement. In the future, we intend to further develop the game alongside new multiplayer concepts and show that it can be used in many different therapy settings."
There are plans to conduct a larger research to study the effects of the game on learning efficiency, patients' motivation to train for longer periods, and the social implications of the interaction, such as the differences between playing with a relative compared to a stranger.
GripAble and Balloon Buddies were developed by GripAble Ltd., a spin-off from the Human Robotics Group at Imperial College London. 
The Human Robotics Group at Imperial (HRG) is part of the Bioengineering Department. It uses an integrative approach of neuroscience and robotics to investigate human sensorimotor control, and to design efficient assistive devices and training systems for neuro-rehabilitation, which are tested in clinical trials. This approach has generated promising projects and significant results in various areas from computational neuroscience to medical robotics, neural engineering and tissue engineering, some of which are described here. HRG is affiliated with the Centre of Neurotechnology and is part of robotics@imperial.
Watch the video below to see a patient with severe upper limb impairment play Balloon Buddies with a healthy volunteer.