EduExo Teaches Users How to Build Their Own Robotic Exoskeleton
BY: FG Team
4 October 2017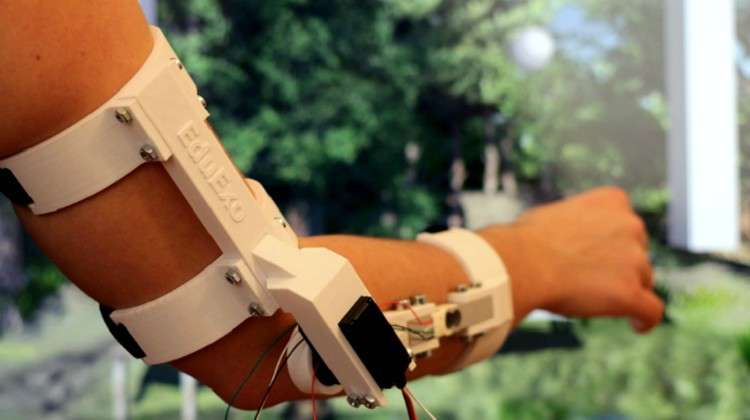 images: BEYOND ROBOTICS
EduExo is an educational robotic exoskeleton kit developed to make exoskeleton technology more accessible by teaching students, educators and hobbyists about its development and use.
The EduExo is the world's first robotic exoskeleton kit developed for use in STEM education. Designed as a DIY edutainment platform, the kit contains the mechanical and electronic parts needed to build a one degree-of-freedom elbow exoskeleton. It comes with a 90-page handbook that introduces students, teachers and hobbyists to exoskeleton history, functionality and technology.
The handbook also contains a tutorial that guides users through the different steps of building and programming their own robotic exoskeleton. The tutorial teaches them how the mechanical design of the exoskeleton resembles human anatomy, how to connect sensors to an electronics board, and how to design and program a control system. It also shows them how to connect the exoskeleton to a computer and use it as a haptic device combined with virtual reality applications. Users can get additional information and connect with others to share their ideas and projects at the free complementary website, eduexo.com.
The EduExo was developed to introduce users to exoskeleton technology and its application and to give them hands-on experience creating an exoskeleton. The kit is targeted at high school and college students looking to learn about exoskeletons and wearable robotics, as well as at educators looking to set up exoskeleton labs or courses, and anyone else looking for a fun new project in a fascinating field.
The exoskeleton kit is available in several different editions. Additional extensions will be available to allow users to learn about specialized aspects of robotic exoskeleton design, control and applications.
The EduExo was developed by Beyond Robotics GmbH, a Swiss start-up specializing in robotic exoskeletons and wearable robotic technology. With a team of scientists and engineers with a background in wearable robotics, exoskeletons and bionic prosthetic devices, the company is dedicated to helping individuals and businesses get involved in the development and use of robotic technology.
The EduExo kit won the WearRaCon 2017 Innovation Competition in April 2017 was funded through Kickstarter in June. Watch the video below to learn more about it.