Hexagol for Skills-Based Football Training
BY: FG Team
8 December 2021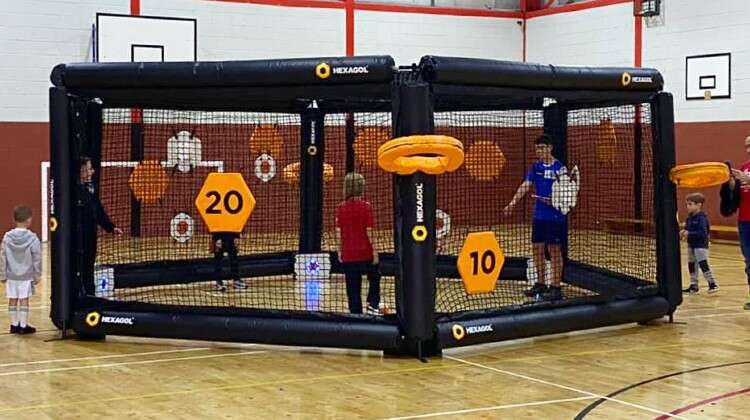 images: HEXAGOL
The Hexagol offers a fun and interactive way to improve cognitive skills and physical fitness for people of all ages and all abilities, whether you're a football player or not.
The Hexagol is an interactive playground that has gamified football training, allowing players to practice the skills required for football in a safe and fun environment. The environment or "Cell" is an enclosed space with 12 LED targets to hit. Bluetooth sends the results of each session to any iOS device through the Hexagol app that anybody can download and use.
Hexagol "Cells" can be standalone or connected to increase the playing space so that you can have individual training or team drills. In addition, each player gets a unique QR code to track progress long-term and see improvements or weak points in training. The Hexagol "Cell" can be set up within 25 minutes with two people, making it a fun active game that is mobile and can be set up in any location indoors or outdoors, including sporting events and schools that have limited space that needs to be reused. Batteries are rechargeable and last for an entire day, so no external power is required.
In schools, the Hexagol can be used as part of an overall physical fitness environment, but it will also improve cognitive performance and confidence with technology. It's also a structured and fun way for students to spend their time during breaks and lunch, especially when outdoor space is limited or during unpleasant outside weather conditions.
Using the Hexagol improves players' skills in a tight training environment where they are constantly moving and engaging, rather than out on a field where they may get limited time with the ball. Through repetitive and fast passed drills, their confidence, skills, and physical fitness improve much quicker than with other methods. 
While the Hexagol can be used for team training specifically for football, it's also effective for any children as the skill level is adjusted in the design of each session; you can set it for one or many targets, making each session fully adjustable to different skill levels.
In addition, it's effective for children with Autism as it doesn't overwhelm them and puts them in an enclosed space rather than an open field. Children with physical disabilities can participate fully, as there is wheelchair access and the focus can be set on one target at a time.
Hexagol was founded by Robert Caw, who brings all of the technical expertise to the team, ensuring that the Hexagol is tightly integrated with technology for a younger generation that expects instant access to results, tracking progress, and competition with other players through a fun gaming experience. Gary Teal, a former English Premier League player and UEFA Pro Licence Coach, ensures that the Hexagol trains and increases the players' skills so that training in the Hexagol transfers to the pitch. 
Watch the video below for a complete overview of the Hexahol straight from the manufacturer and to see it in action.