Boys & Girls Club of Eden Sees Success with SMARTfit Trainer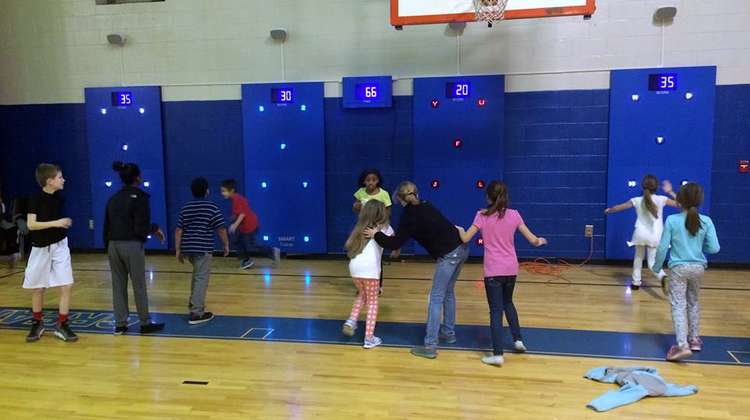 images: BOYS & GIRLS CLUB OF EDEN FACEBOOK, MULTISENSORY FITNESS
The Boys & Girls Club of Eden in Eden, North Carolina, has had a lot of success with the SMARTfit Trainer 4, an interactive gaming solution that offers physical, cognitive and social benefits to players of all ages.
The Boys & Girls Club of Eden, a youth club located in Eden, North Carolina, has integrated the SMARTfit Trainer, an advanced fitness gaming solution from Multisensory Fitness, into one of the facility's core programs and had a lot of success with the system in recent months. The interactive trainer immediately drew club members' attention and proved highly effective in keeping them engaged in a variety of active, physically challenging games.
The SMARTfit Trainer is a multi-station system that offers high intensity cognitive training and fitness training for large groups. It is designed for competitive interactive team play, allowing players to improve their speed and agility while playing fun games with their friends. The trainer challenges players' skills with a range of cognitive games that are played while running, balancing, stabilizing and playing ball. To advance in the games, players must strategize, make fast decisions and simultaneously manage their footwork, balance and ball control.
The SMARTfit Trainer consists of two to six stations, each equipped with nine multicoloured targets and a scoreboard. Each station accommodates relay races for up to 10 players. The system requires supervision of one instructor and comes with a high fidelity sound system, which makes it an excellent solution for large rooms.
SMARTfit technology offers inclusive play, encouraging children who would not ordinarily have the confidence to participate in sports, to join in the games. This was just one of the many reasons why the Boys & Girls Club of Eden selected the trainer for their facility after raising the money through a grant. Along with a variety of benefits, the SMARTfit Trainer has a wide range of applications, including cardio training, functional training, fitness classes, rehabilitation and medical fitness, and high intensity cognitive training for PE and Adapted PE.
The Boys & Girls Club of Eden, a facility dedicated to helping young people to reach their full potential, offers children a safe place to learn and grow, and has a broad range of programs designed to develop children's character, leadership skills, health, and life skills. The club also has a game room equipped with board games, arcade games, ping pong and pool tables, and the Xbox 360 to ensure that members are always engaged and having fun. One of the club's core programs, Sports, Fitness and Nutrition Education, promotes physical activity, interpersonal and social skills, and positive, healthy choices in daily life.
Similarly, the Exercise Program/Triple Play, offers education in nutrition and healthy eating habits along with organized sports for all ages. The SMARTfit Trainer, which is used in the Triple Play program, helps children improve their cardiovascular fitness, cognitive skills, and teamwork and cooperation skills. The trainer is also used in short pre-homework sessions to allow children to settle down before they do their homework. It is a perfect fit for facilities offering fitness programs for large groups as it allows instructors to manage 50 to 60 players at a time.